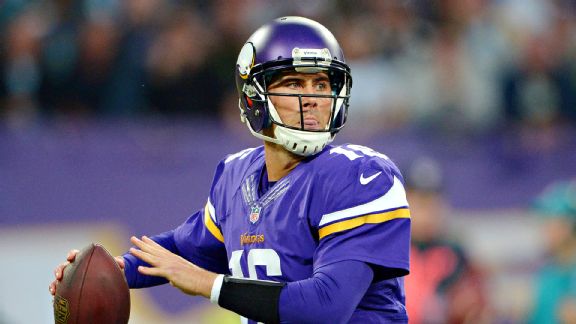 It was one of the most energetic games I've ever seen. Not only did the Vikings win, but the offence racked up 48 points. It's the ninth time the Vikings have scored 48 points or more in franchise history, the last time being in 1998. Do you want to know the most surprising factor of all? Adrian Peterson was out with an injury. There is one word that must be said... How?
For starters, Matt Cassel was on fire completing 26-of-35 passes for 382 yards, two touchdowns and one interception. It's worth mentioning his first nine passes were all complete. If Matt Cassel had been starter all season, I know we would have won more than four games by now. We might have even been playoff contenders.
Greg Jennings was having a party with Cassel stacking up a career high of 11 receptions for 163 yards and a touchdown. Before today, Jennings only had one reception in the month of December. Matt Cassel really realized Jennings capabilities and found every chance he could to get it to him. Ponder just didn't have the skill to find those chances.
Another player that had a superb game today was Matt Asiata who ran in three touchdowns but only had 55 rushing yards.
The defense could have been better but Jared Allen and Brian Robison both had two sacks. They both now have seven sacks for the season. Who do you think will come out on top for sacks this year?
If you watched the game, I'm sure you would agree with me it was one of the most entertaining games of the season. Even though we now have no shot at the #1 pick for the 2014 draft, the win put a little hop in my step for the rest of the day.