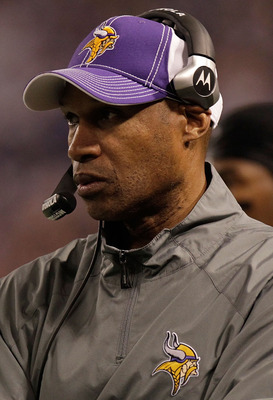 He's one of the worst in league according to the Sporting News. The Sporting News had a ranking of the 32 NFL head coaches and Leslie Frazier made 27th, but 28th-32nd are all rookies in terms of coaching experience.
"If his second year doesn't go better than his first year, there probably won't be a third year." the Sporting News said.
But we can't really blame him. He didn't expect Donavan McNabb to fail miserably, and Christian Ponder didn't really get an
off season
training because of the lockout, and it was only his first season as a head coach. I think we'll improve dramatically. I'm not saying playoffs, but an overall better team.
"We need to improve on everything. I don't think you can pinpoint just one thing on what we need to improve on. The fact that we went 3-14 last year. We need to win more ballgames and the only way we can do that is for everyone to takes it on themselves to become a better player. Then if each individual does that, and puts it in their minds that they're going to become better today, then that definitely makes the team better," Brian Robison said to Daily Leisure Vikings
So it's not all Leslie Frazier fault. He was hired into a bad team. But I also agree with the Sporting News. If this season isn't better, Leslie Frazier is in deep trouble.